Post by au64 on Apr 7, 2019 0:29:14 GMT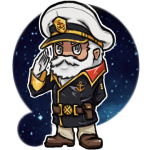 So we are looking at this for play testing purposes?
--------------------------------------------------------------
Ar 196
Germany
Aircraft – Fighter
1939
Cost: 9?
MG: 2
AA: 5
Bomb: 3
ASW: 2
A/VA/HP: 4/7/1
Sea Basing - This unit can base only in a coast or an island sector on your side of the map. Don't place a Rearming counter on this unit during your Air Return step.
Spotter - At the beginning of your Air Attack step, you may choose an enemy Ship within range 2. Your Ships roll one extra attack die when attacking that ship at range 2 or greater with their main Gunnery attack this turn.
-----------------------------------------------------------------------------
I'm a little shaky on the cost and throwing 9 out there as a starting point, the reasons for the 9 is based off of the combination of the two SAs and that the unit has everything on the attack lines except for Torpedoes. To reduce the cost we could get rid of the MG line, after all this unit would never be used to strafe especially when the Armor line would become a 2/5/1.
The Machine Gun value is really only going to be used against the Laffey. To me it is just on there to acknowledge it had the capability, like several other fighter/bombers in the game. I don't think it should affect the cost. That said, if we want to take it off it certainly won't affect its playability my much. 9 seems a bit steep for such a weak aircraft. Yes, Spotter is a good SA, but will this aircraft survive very long to use it? It's own native attacks are very weak. Seems more like a 7 to me. Maybe an 8. Compare to the Rufe at 8 points with MG2, AA6, 5/8/1 armor, Night Fighter and Interceptor. The difference in armor values is a pretty big deal IMO.
Yes the Rufe is 8pts, but it has NO offensive capabilities other than strafing. This has Bombs, ASW, and a spotter ability that currently gives an add to ALL ships 2 or more away from the target. This also means that you can lure enemy fighters into your ships airspace to shoot them down. It's not worse than many other PBs out there from a defensive standpoint. Using this comes means you want placement advantage.
Additionally it can use it's ASW/AA/Bombs in the same turn it uses spotter. It can also be stacked with Scout Cruiser etc...
It's not just the unit, but also what other impact it has on general gameplay. These advantages I think call for it to be 9 points.