Post by waratsea4 on Aug 3, 2018 20:36:10 GMT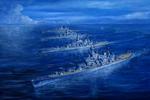 they have a lot of Sub Hunters; high ASW attack die; and Hudsons Lone ASW Hunter; they can kill subs.
Not to be mean or anything but I think you and I are reading a different forum page... Most of the chatter here (including from you) has been with providing the Canso with an ASW boost of some sort. I'm just trying to figure out where this is coming from.
The key is to make this PBY different enough from the others that it will be used but not over shadowed by other PBYs.
Here's how I see the unit shaping up based on discussion so far:
Type: Patrol Bomber
Armor: 3
Vital Armor: 5
Hull: 1
ASW: 2 (possibly 3)
Bomb/Torp: undetermined at this time and not discussed
SAs:
Loiter
Defensive Armament (Proposed)
Other proposed SAs included the following themes:
* Bonus Victory points around Rescue Ops (Aircraft or Surface ships)
* Bonuses to ASW attacks
* Ability to move Auxillary Ships if close to a sub
Out of the options so far on the table I like something around Rescue Ops (or a variant) or a bonus to ASW.
I'll also throw out a new another SA (Based off of Scout Cruiser) at the wall to see if it sticks:
ASW Scout: At the beginning of your Air Attack step, you may choose a local enemy submarine. Your units roll one extra attack die when making attacks against that submarine this turn



If you reread my 2 posts again you will see i never thought boosting ASW attacks is a good way to go with Canada's Canso;;
As i mentioned Canadian units have powerful ASW attack values and it may just be over kill;
I suggested going in a different way; Using the PBY's for what they were Historically about;; spotting SUBs and letting Command know.
My suggestion were using these tools to either allow other attacking units a preroll or warning the convoys so they can scatter;; move away from subs.
Lots of good ideas are mentioned but i prefer and it is JMO, units that are redone several times should get a new flavor or SA, or it just seems like copycatting.
Expansion has come along way we don't have to take 5 Fletchers; 4 Navigatori's; 5 Z class; 4 PBY's; etc. and just mix and match SA's while keep the cost the same,
not that its not OK; but don't you think a little new infusion make them more interesting.