Post by waratsea4 on Jun 26, 2020 1:00:36 GMT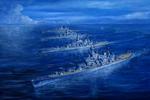 sprint, to bring that mighty torpedo dice a range 1 to bear. And escort killer despite having a weaker main armament that the procedeeding german light cruisers. Which are only 9 or 10 points as is.
As i suggested previously pinpointer. An extra attack dice for a players uboats fits well with german strategies and is the sort of thing a ship that compromises protection and firepower for long range crusing mighy do - ie scout for uboats to attack convoys.
Yes i hear you: A couple of thoughts; The Z plan wasn't about subs only, it was about a navy that could challenge the RN's ability to protect its convoys against both over and under the sea;
the failure to produce these Planed units created the massive Sub program;
Imagine the war starting with these early resources used for Subs only. Another forgotten thought the Oil needed to operate the Ships planed were more than triple the German
production rate;; never going to happen.
So if these units were built they were going to be Raiders or Scouts; So yes;; Sprint - Chase - Raider - Pinpointed give you that flavor;
I like Chase over the others because its not already in the German inventory; and I think it can work well with the units that have those SA's
A ship as this within 2 sectors of the enemy is going to have a short live span and Sprint if I'm not mistaken is OPG if you roll a 4 or not; good luck!!
Giving the unit some use in the core game which i feel is important to consider for any new unit is of course conjecture;
I just felt Escort Killer is not a game changer for this unit; something units of it caliber already have and is not in the German Navy Inventory .
Whatever is decided upon will determine its use;; Can't see any rush to ending it without exploring all Ideas,that usually comes up with the best unit.