Post by weedsrock2 on Oct 5, 2019 16:03:19 GMT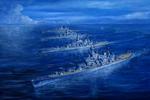 First i do like Weeds SA ideas does give some meaning to a pretty poor Dive Bomber; but it is French.
Second; what right does this thing have, having a Bomb value of 8, there is no mention of it having wing load ordinance
as with the Val and Stuka, which increased its bomb capacity, it seems more along the lines of the Skua's values.
Since France really had no Fleet air arm and the games French Vindicator was just a push to give Bearn play, which we know
will be a better choice than the Ln 401; why was no consideration given to still a viable improve version the Ln 42.
When you look at all this, its really Fantasy or Hypothetical so why not go with something that did exist and can be an improvement
to to game use and the navy.
The bomb value comes from the guideline stats for Expert Dive Bombers. A better title for that section would be "True" dive bombers (that bomb from an almost vertical dive.) Vindicator had a 454 kg maximum bomb load (1,000 lb). LN 401 maximum bomb load was 225 kg (500 lb.) The Val had a 380 kg bomb load with a value of 8. By the guideline stats the LN 401 should be a 7 by extrapolation. The Skua was not a true dive bomber as it did the standard "glide" bomb attack. There is a different guideline scale for that. The RN and RAF decided not to pursue true dive bombing.

I don't consider the LN 401 to be a fantasy unit. They were actually built and used in two squadrons. And would have been entirely capable of operating off the Bearn or Joffre. (Flight testing was done on the Bearn).

I had never heard of the LN 42 until you just mentioned it. I looked it up and it would have been a significantly redesigned 401 (no gull wings, more powerful engine.) But that would be pure fantasy. I have no problem with fantasy aircraft that had at least a flying prototype completed (which it evidently did), but many folks prefer a real unit if one is available. In the long run I would go for both aircraft, but I tend to prefer the LN.401 for now if we can give it a little boost with SAs.
It appears the bomb load capacity of the LN 42 would have been increased to 500 kg which would be a bomb attack value of 9. I suppose the LN 42 would get a little better armor and/or vital armor value too, but I would have to check to see if the improvement was enough.

(Edited with better data.)