Post by weedsrock2 on May 3, 2017 2:53:17 GMT
Originally posted by Danaussie
www.mediafire.com/?x33i9mcfxm8f6u4
This is a Microsoft Word Document hosted at Media fire please click the link to upload the file. The Word Document is a complete pictorial painting tutorial of the techniques I use when painting WaS miniatures. In it is a list of colors and products that I use and is a useful guide to help get the novice painter started.
Cheers guys, hope you find it useful.
Dan
EDIT: I have noticed that when downloading the tutorial that it does not have the whole document it only contains 10 of the 12 pages. With this in mind, and considering there is so much more that I would like to share with you, I have decided to upgrade the tutorial. It will be a work in progress for a while so bear with me and I'll get it done. Thanks
New Tutorial In Progress:
An Introduction to Painting
Painting your minis is fun and will certainly add a level of realism and enjoyment to your gaming experience. Whether you aim for a simple repaint or aim for historical replication of your WaS fleets painting models is easy and fun once you know how. The following is a pictorial tutorial to share some of my knowledge with you and perhaps help you on your way to painting your own War at Sea fleet. In it is a guide for the tools of the trade a step by step guide to the painting process, as well as some advanced techniques.
It is important to mention that each artist has his own unique style, this is something every miniature artist will agree on. All artists will often use different materials and different techniques to achiveve striking results. This tutorial will demonstrate the way I paint my minis and the processes and techniques that I use.
Tools of the Trade: What You Will Need
Obviously there are a whole host of different products and brands out there, so rather than mentioning all of them I will simply discuss with you the products and equiptment that I use as a guide of the types of things you will need to help you get underway. As your painting develops and evolves you may wish to change products depending on your personal preference.
Paints & Brushes
There are really two different types you can use when painting your minis, some painters use enamels and some use acrylics. In my experience they can both reach a desirable outcomes when used properly. Having used both types in my time I can only recommend what I have found to be the more superior and workable product and that is acrylics.
It is an artists preference however, but my proffessional opinion is that you simply do not get the same depth and shading effects with enamels as you do with acrylics.
There are two brands of artists acrylics that I use Citadel Acrylics and Vallejo Acrylics. The mainline paint that I use is Citadel Acrylics this is a Games Workshop product and I have found this to be the more superior product in terms of quality and workability.
Games Workshop Citadel Paints
The Citadel range is limited in terms of available colors for our application, and they are rather expensive but like most things you get what you pay for. For drybrushing and hi-lighting and detail work there is no better paint in my view. They also have a flip lid with a paint well that makes for easy painting straight out of the pot. This is an awesome feature in that there is very little paint wastage unlike other brands.
Citadel Color Chart
The second of my mainline paints are used from the Vallejo range of modelling paints. These paints are not quite as good in terms of quality but they certainly are sufficient and I do highly recommend them. These paints have an up side and a down side, the upside is that their range is far superior to Citadel in terms of colors for our application. There is quite litteraly an endless range of different greys and all other colors that you may need. Also their transperant colors or Inks are some of the best I have ever encountered I highly recommend the WoodGrain Transperant color for wooden deckwork.
Vallejo Paint Line
The only down side to this paint is that it dries extremely fast and that they do not have the same flip lid that the Citadels have which means that you can tend to waste alot of paint. There is a paint retardent that can be bought from Vallejo to deal with the fast drying aspect, and I highly recommend that you buy a bottle of the retardent with your paint purchases.
Vallejo Color ChartOther Acrylics currently on the market:

Reaper Master Series
Reaper Pro Series
Ral Partha Miniature Paints
Coat d' Arms Series
Foundry Paint Series
Privateer Press Formula P3
Rackham Color Series
Tamiya Acrylics SeriesBrushes:
Well I think I can safely say that there would not be a single model painter that would not recommend Windsor & Newton Kolinski Sable Series 7 brushes as the best brush for our application.
There are a whole host of brands and types to chose from, you will be needing a brush that is specifically for use with acrylics though so just bear that in mind before hunting for brushes.
Windsor & Newton Series 7 brushes
With that said I believe this is the artists choice predominantly and basically any fine detail brush will suffice when it comes to painting your minis. You can either use a synthetic or sable acrylics brushes both achieve good results.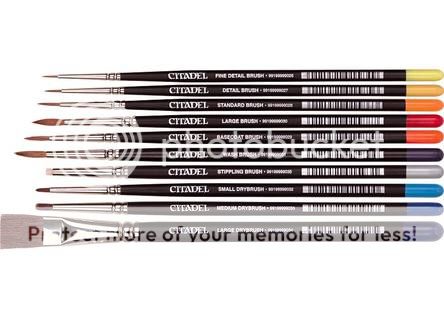 Games Workshop Series brushes
The sizes you will need vary but I use a
3/0, 2/0, 0, 1 & 2 size
I also use a flat square brush for painting hulls. Once again this is the artists choice but a 3/0 is a good short brush with a fine tip that is perfect for miniature painting.
Kappel Series brushes
I use a cheap and nasty brush type mainly because I do not have the time for a great deal of brush maintenance not that I dont recommend taking good care of your brushes. I use both a sable and synthetic type of the Jasart series brushes they are cheap and they work. My brushes go through a recycling process as they age, they will be used for fine detail work until they become too frayed to be used any longer for this job. Mind you they usually paint up to 20 miniatures before they get to this point They are then used for base coating and eventually are only good enough for dry brush work before they eventually get tossed.
Danaussie's Brushes & Modelling Tools
I would probably purchase around 20 brushes a year in different sizes but predominantly 3/0, 5/0 and my mainline brush size being 20/0 in the Jasart range. The other brush type you see there is a makeup brush that I purchased from a $2 shop, it has soft bristles and is excellent for large area dry brushing. My point is that you can purchase either the more expensive types or cheaper types its really how you use them that makes all the difference.
The other tools are an Exacto knife or modeling knife used to remove dags of plastic from the models before painting, and the other tool you see there is a Pin Vise which I sometimes use to drill portholes before painting.
Before You Start:
Just a few pointers before we get started painting here that I would like to mention, one is painting area and the other is research.
Painting Area:
I think its important to have a good place to do your painting, what I mean is you should have a place where you can store all your painting stuff so its easy to find. You should have a fairly large area to put all your paints up in front of you so that you are not knocking paint pots over and making a mess or God forbid spilling it all over your precious minis.
Danaussie's Mancave Painting Area
In the above picture you will note I have a clear work station with some of the paints and washes I will be using up in front of that work area so they are out of the way. Also you will see a decent lamp which is also essential when painting. This is one of my two painting areas this is in my garage and the other is inside for the winter months.
Research:
I think its important before you get started to mention research, afterall we are working on historical warships here. Not all painters will want to work on a historical replication of WW2 warships and may just want to repaint their ships as the want, this is fine too. But for those that wish to aim for historical replications I think its important to do your homework before you start.
It is important to know what colors you will be using to recreate your ships, there are many different places to find information on the particular ship you intend to paint. There are of course many books on the different ships we use in WaS, I tend to only have a limited amount of source material available to me in book form.
Books are very expensive and hardly ever have more than one type of ship that has any amount of decent colored pictures in them to help you. Not that I dont recommend you buy some books, you should, but I can only afford to buy a book here and there as I go. In the meantime we probably need something a little faster to help us.
The internet is a great source of information and when you know where to start looking you can get some great source material quickly to help you on your way. I use mainly Modelwarships.com and Steelnavy.com to do most of my research:
www.modelwarships.com/index1.html
www.steelnavy.com/
I choose these wbsites mainly because they have such a wealth of source material in one place. The other reason is because the sources are colored pictures of scale models. This is helpful for two reasons.
1. Because it is much easier to understand what you are looking at if you are looking at a much larger representation of the ship you are painting.
2. Beacause the scale modellers have often done all their homework for you, and although it is not always the case but more often than not you can get a proper understanding of the actual colors you need.
ok, well now we have our paints and brushes lets get on with the painting, I will work through the steps with you and give pictures so you can get a better idea of what I am talking about as we go it quite easy once you know how so lets get started.
There are 6 main steps I use when painting my minis:
Step 1 - Preparation
Step 2 - Base Coat
Step 3 - Wash
Step 4 - Dry Brush
Step 5 - Hi-Light
Step 6 - Finishing Touches
Of course there are other techniques I use and these will be explained later in the Advanced Techniques section of this tutorial. It is best to show you the main steps first before I show you other techniques.
STEP 1 - PREPARATIONWashing Your Minis:
Before we put any paint on our model it is important to do a little preparation, this is anything that must be done before any paint touches the model. These steps are optional but I recommend doing them for the best results. The most important of these steps is to wash the model, I use warm soapy water to do this and then rinse the model in warm water. This will clean off any greasy finger marks or dust from the model so that the paint adheres to the model.
Removing Stray Plastic:
After washing the model you can use a modelling knife to remove the dags or crease lines left from the molding machines.
Drilling Port Holes:
Using a Pin Vise.
HMS Belfast after Pin Vising.
Another optional detailing technique I often use on my minis is to drill the portholes using a Pin Vise, by doing this it helps to deepen the recess created by the molding machines and helps to give the ship a little more detail and a finished look.
STEP 2 - Base Coat
Now to start painting, the first thing to do is to apply a base coat, this is probably the most important step since all other paint needs to adhere to this surface. This step is the only other step that takes the longest if you do it properly.
You dont want to be applying the base coat on too thinly or too thickly. Too thin an application will result in an uneven coat and the coat will not adhere to the model also the other painting techniques that come later will not work to a desired effect. If the base coat is applied too thickly you will lose important detail. Citadel paints as a general rule are very thick just out of the pot so I will generally add 10-12 drops of water before appling my base coat. This is usually the perfect consistancy for base coating.
Admiral Hipper after base coating
When selecting your base coat color think of what the end result will be, for instance in the above picture I have selected a lighter grey to base coat the Admiral Hipper, this is because once complete the Hipper is a fairly light grey. Having said that generally a base coat will be darker grey than the color you will use later for dry brushing and hi-lighting. I have used a slightly darkened Fortress Grey for base coating the Hipper. But a great color for base coting most ships will be a slightly darkened Codex Grey.
Tirpitz Base Coated with a slightly darkened Codex Grey
The above picture also shows that I have popped out the turrets of the Tirpitz to make it easier to paint in and around the model. This is not always possible, sometimes WotC models turrets are jamed in too tight and they are near impossible to move, I use the handle of my paintbrush usually to pop the turrets out pushing up through the bottom of the hull where the holes are.
The above picture also shows the Vallejo equivalent to the Codex Grey which is called Basalt Grey, once again this will need to be thinned a little before application either with the drying retardent or just some water as explained above.
Base Coat Colors
Fortress Grey
Codex Grey
Chaos Black & Skull White
To lighten or darken your base coat colors just mix in a few drops of either Chaos Black or Skull White. To check to see if you have properly covered the model in its base coat colour, allow the mini to dry wait about 15 minutes and then inspect the model. Inconsistancies in the cover of the base coat should show through, simply apply a little more base coat to those areas to ensure overall base coat coverage.
Washing
Washing is probably the hardest thing other than dry brushing to explain in text alone or even showing a few pictures. I will do my best to explain this step to you so that you have at least an understanding of the technique.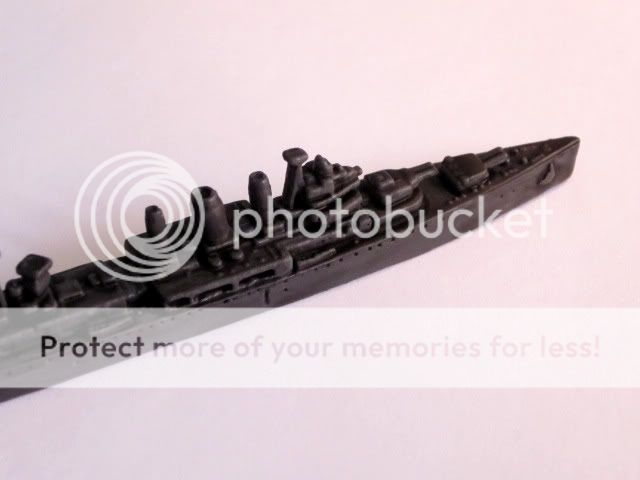 County Class Heavy Cruiser after Washing
For best results it is best to first have an understanding of what we are trying to achieve by doing it. The wash is applied after the base coat to begin to add the shading and depth to the look of the model. Not ony that it will serve to add at least a little of a natural weathered appearance to the mini.
Darker areas are now shaded leaving the raised edges a lighter shade.
On a more practical level it will show up everything on the model by creating shade where there should be shade and leaving the raised areas of the model a lighter colour than the recessed areas. As the watery pigment seeps into these ditches in the models surface (which I refer to as recesses), they begin to pool as the brush moves over them leaving the raised areas lighter in shade.
For all the grey areas of the ship use a black wash I use the Citadel Badab Black mixed with water at 95% pigment to 5% water consistancy seems to work best. For wooden areas use a Chestnut Ink watered down to a 95% to 5% water mix, or water down as above the Vallejo equivallent which is Wood Grain Transperant, a Sepia ink may also be a colour you may wish to explore later.
Two things to remember about washes and all pigments:
1. All paint stains! As all paint has a base pigment, so this means that almost all paint colours may be used as a wash. Experiment using different colours watered down in a bottle cap and applied on a clean white sheet of paper this is a great way to see if you have mixed the water to pigment mix correctly.
You should have a watery looking colour.
Testing a Wash colour
2.
Do not
cover the model too heavily when applying a wash, keep in mind point one here, all paint stains so heavy application will result in an overall repaint to a darker colour which is not the desired effect of the washing process. Keep in mind you are not trying to repaint the ship a different colour you simply want to wash over the model and allow to dry. You are washing the model
not
re-painting it.
Preparing a wash:
If you intend on using a colour that is not a pre-mixed wash colour such as Badab Black or Woodgrain Transperant you can premix a wash colour using any other colour you wish. You can prepare a black wash using your Chaos Black the consistancy should be 95% Water to 5% Pigment. Start by adding water to your fresh paint pot or bottle cap, and a few drops only of pigment to the mix.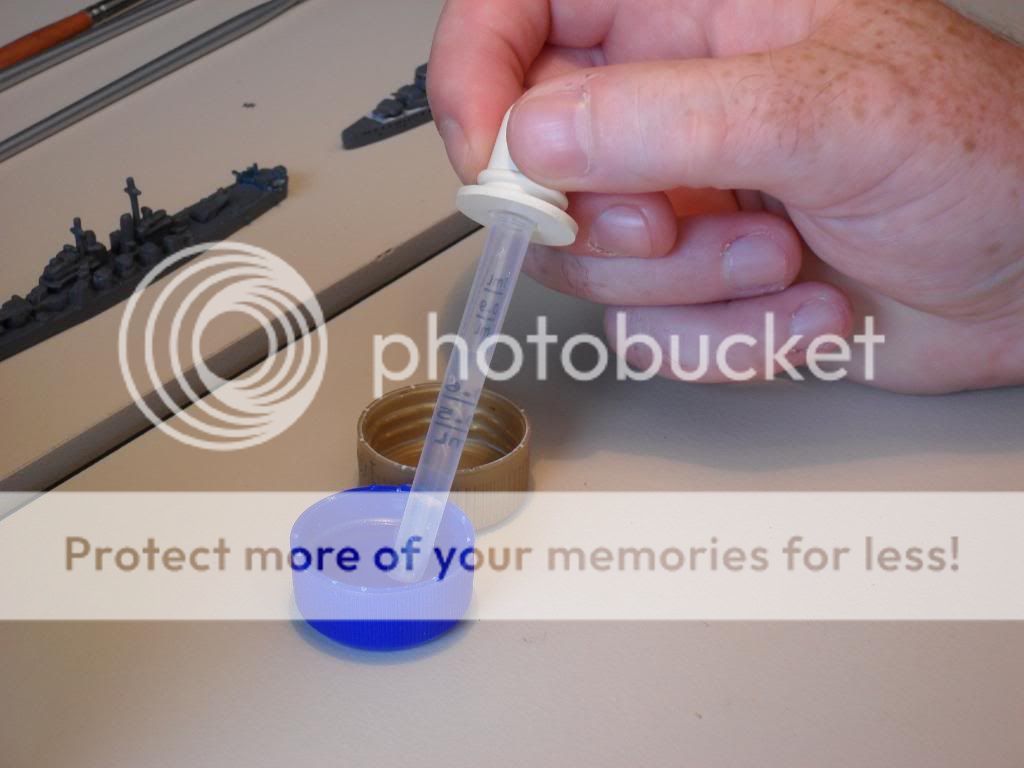 Mix it into the water thoroughly and test the wash on a piece of clean white paper as shown above, to make sure the wash is niether too light nor too dark for your particular application.