Post by weedsrock2 on May 3, 2020 4:20:21 GMT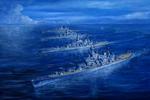 Heres my take;; These units are about saving money so;;
Material wise;; if your buying or painting Shapeways cheaper materials this is a better deal,
you'll need care to get a smooth look, that's impossible with Shapeways; just look at Weed's give aways;
He's an excellent painter, but close up you will always get a grainy look.
The Models;; It's been a while since I purchased from Shapeways; I'm just painting my last order of 4 years a go some 50 ships and 50 planes.
I've had some issues; no two models looked exactly the same, missing and deformed parts a lot of back and forth with Shapeways;
Maybe today its a bit better??
These models have some issues to; mainly lots of tags to be cut away, [if your not careful you may cut some parts off you don't want to]
along with spider webs and some deformed parts; I found it to be manly cranes, the smaller gun barrels and plane props; not horrible or anything you couldn't live with
just annoying.
The order;; Came timely a few days; ordered a sample of BB's, CA's DD's and Planes;
they compared well to the originals maybe a bit smaller; i believe i received a smaller scale CLEVELAND, if a din't they have a problem, don't think so
the other CA's were fine. As i said the Plane pops had a lot of tags and i messed a few up the material cuts but can break off a bit brittle.
I also received some extras which was nice and 10% off my next order which will be some Carriers;
The extras i received were Nagato which was a very nice model a Portland class CA which had a few missing details not to bad;
The third unit was a large scale i believe BB have no idea what ship.
As i've said been awhile since Shapeways for me; but if you want to spend on the better materials or want movable turrets and a greater selection its Shapeways;
These units just added to your decision making, but defiantly a way to save money.
First, thank you for the compliment on my painting!
I am still purchasing my miniatures in WSF (now White Natural Versatile Plastic), and I can confirm there is still considerable variation in print quality. Even though I generally buy about 6 "rares", 8 "uncommons" and 12-20 "commons", I never buy more than one item of a given miniature per order. That way I spread out the quality across multiple orders instead of taking a chance on getting a good printing (or a bad printing) all at once. Aside from occasional true bad prints (which Shapeways is very good about replacing), I find the greatest variation is whether the miniature was printed horizontally or vertically in the printer. Horizontal orientation (flat with the printer bed) has sharper detail, but the curved surfaces are a little blocky or stair-stepped. Vertical orientation gives softer detail, but the curves are smooth. Thus, I generally find the ships are better when printed horizontally, and aircraft are better when printed vertically. Unfortunately, orientation is determined by the computer as it calculates how to get the most efficient use of the print area with the miniatures in the queue. I don't know if the other plastics have the horizontal/vertical issue, but I suspect they must to some degree depending on how fine the print layer is.