Post by weedsrock2 on May 3, 2017 1:53:36 GMT
Paint Along With Danaussie - A Tutorial(Originally posted by Danaussie)
Danaussie's Previous Full Tutorial:

Part 1 : Introduction
Hi everyone,
Here is a pictorial tutorial that will hopefully help some aspiring W@S Painters to pick up their brushes and start painting your miniatures.
Why Paint Your Miniatures?
I think that painting minis is great fun, the ability to bring something fairly plain looking to life is really rewarding in itself. The hobbiest aspect of "any" miniature wargame is half the fun in my humble opinion. WotC have given us some fabulous looking miniatures to work with, the detail on most of these models is quite good, and the factory paint jobs are also quite good ( :lol: for factory paint jobs :lol:). I have bored Forumini for years on what I like to call "Game Aesthetics", this is anything that helps to bring your tabletop to life. From the tabletop itself to smoke markers and of course the miniatures themselves. All of these things help to bring something to the game and further enhance the gaming experience.
An Introduction To Painting W@S Minis
First of all most artists at Forumini will tell you that painting minis is not very difficult and its something that anybody can do. This is very true, when I teach here in Australia I teach that this is nothing more than a few neat tricks that have been used so many times it is now like second nature.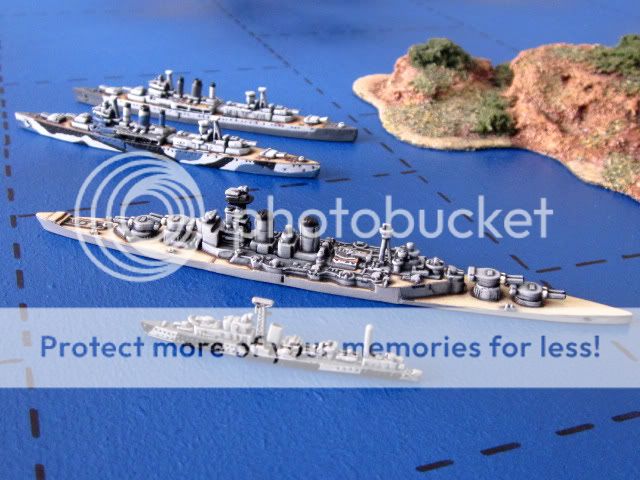 My mentor...well one of them, told me when I started painting 18 years ago that "your first 200 models will be your worst". lol :lol: he was right. :lol: So the thing is, be patient with yourself, learn the basics and repeat them, dont expect to be a master painter on your first day.
The best minis to paint (I believe) are IJN or any miniature that does not have camouflage just so you have the basic principles in place, then once you have them down you can start experimenting with other things, camo, weathering, advanced shading and other techniques.
Getting Started
Like some of my other tutorials I have written I will share the techniques that I use and the equiptment and paint that I use. I will stress that my techniques are by no means the be all and end all, they are just the tricks I use. I am by no means an expert just a practiced painter that loves his trade.
Before we start painting its a good idea to make yourself some room, a tidy working area is much better than a messy one. The last thing you want to do is knock over paint pots or spill the water jar while searching around for the things you need. Keep your paints in boxes so you can easily find them, your brushes at hands reach and the water jar in a place where you will not knock it over. And Lighting! It is important to have adequate lighting so you can see what you are doing, a good desk lamp is all that is required.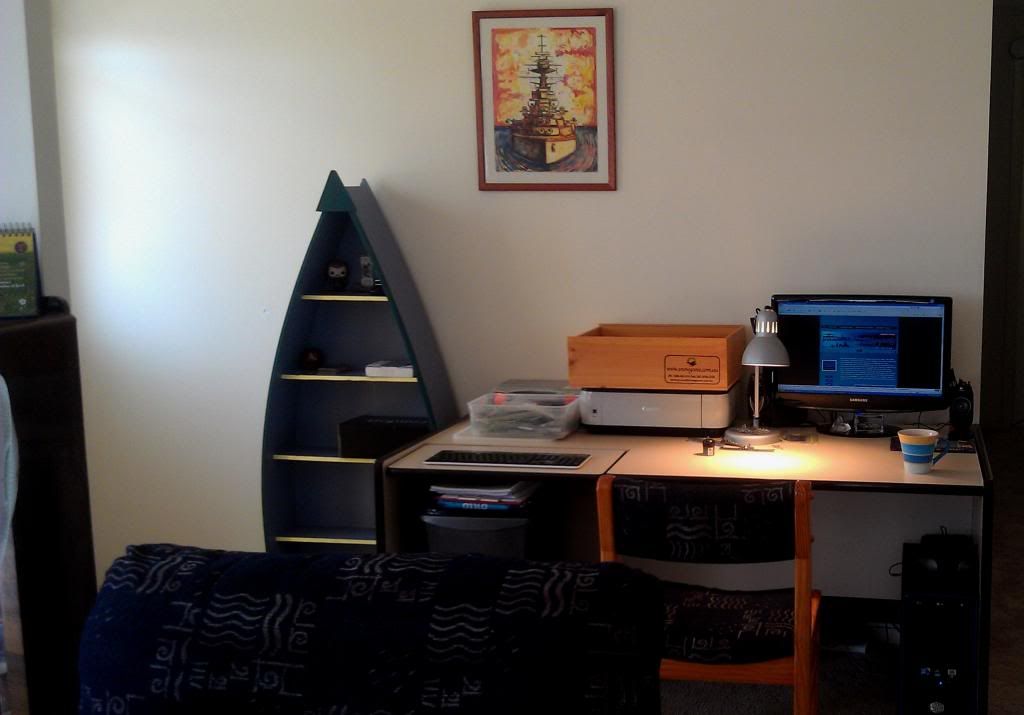 My Work Station
Close-up Of My Work StationPaints & Brushes
Well....Citadel! I have talked at length with many miniature artists that use or have used many different paint brands. All artists will have their preferences in both Paint and Brushes, so we will not go into that here...perhaps we can open a topic on that subject later.
I have used many types of paint myself, in fact when I first started painting I used (and swore by) enamels. I had even become quite profficient at using them...then I met Cameron Scott while starting out painting GW (Games Workshop) Warhammer Fantasy miniatures. He showed me a few tricks using the Citadel Paints and I systematicaly stood up and threw my entire box of enamels in the trash. The point of telling you this is that I knew that I would never get the same level of depth and shading from Enamels, with as much simplicity and ease as with Acrylics.
But Wait!!!!
:shock:
Before you throw all your other paints in the trash :lol: please just remember that I have also seen other painters get fantastic results with them, and like I have said this is completely up to the individual artists, play around, experiment using brands you will soon discover what best suits your style and technique package.
I dont believe that there is a more superior paint than Citadel Acrylics, if there is a better brand I certainly have not come accross it yet. While I use Citadel as my mainline paint, I do use other brands as well like Vallejo, Tamiya & Art Spectrum (AS) for other jobs such as Base-Coating (priming), Washing, Inking etc. I suppose it also should be mentioned that these brands all marry very well together, Citadel over Tamiya and Vallejo all works fine.
Tamiya Acrylics and Vallejo Acrylics are great but I dont find they dry-brush as well or as easily as Citadel does, so the dry-brush will almost always be done in Citadel but the other jobs can be done using the other brands. You will find what best suits your style in a very short time...like I said earlier....experiment.
A Word On Brushes...
Once again this will be the individual artists choice, most artists will tell you that Windsor & Newton are the best brushes in the sport, they are right, they are also the most expensive. :lol: You want a good sable brush, brand is not so important as tip in my view, I use a bunch of cheap-@$$ Jasart Round 20/0 brushes as my mainline brush and I will often buy 20 of them at a time. My brushes have a long life and are recycled for other uses once their tip has deteriorated. The older brushes get used for base-coating, and then for dry-brushing before finally graduating to the trash basket. :lol: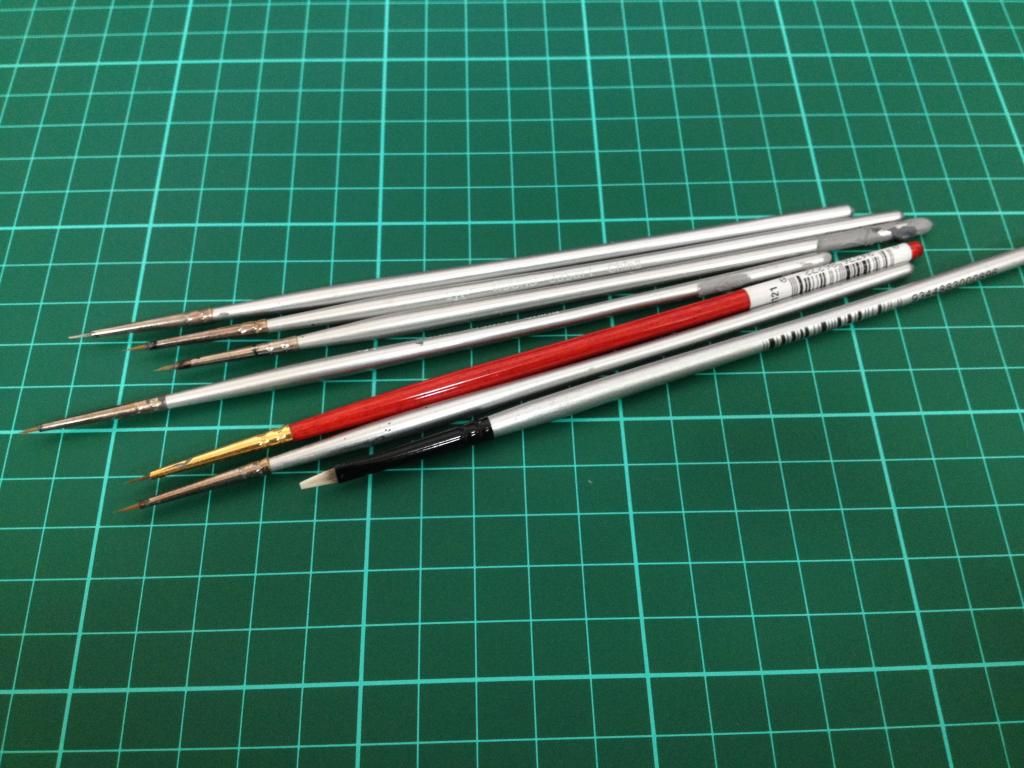 I also have a large range of other types of brushes as well, I will use a small/short, square head brush for painting hulls. I am always on the hunt for things for modelling and painting and will often walk into a "2 Dollar Shop" and grab a $2 set of "artists" brushes if the set has any kind of brush that I may find a use for.
So simple rule of thumb, Sable or Sythetic Sable brushes for use with Acrylics, you will want 2-3 fine detail brushes at 00 to 000 in size 20/0 (Jasart). Games Workshop has some Sable "fine detail" brushes available that are not very good and over priced, but they will do if you are in there grabbing your paint. Any hobby shop should supply a good range of Vallejo, Tamiya Acrylics and Citadel Acrylics and have a good range of brushes to choose from. Of course you can also order most things online these days.
So now we have talked about all the things you will need...so lets get painting. I will take everyone through the process of painting your minis in a step by step manner so we can all paint along together.
Preparing Your Model For Painting
But first we should prepare the model for painting, some models will have "dags" (pieces of unwanted plastic from the moulding process), it is optional if you wish to remove these before the painting process. Take a look particularly around the gun barrels for pieces of plastic that you wish to remove. You can generally remove these carefuly with a modelling knife or sandpaper.
It is also good idea to wash the model before painting, this is particularly important so that the paint adheres to the model. Often our models are second hand or have been handled many times before they ever get painted. This will leave an oily residue on the model and make it hard for the paint to stick to the model. So before you paint the model just wash it in hot (not boiling) soapy water and then rinse and allow to dry.
Now our model is ready to paint...