Post by weedsrock2 on Feb 12, 2021 6:05:16 GMT
Deck F development continues and I may even see a teeny tiny light at the end of the tunnel. (squints real hard)

For this opening salvo we finally bring mine laying to the Pacific theater. Mine laying in the Pacific was not high on our list because mine laying as an offensive tactic was mainly practiced in the Mediterranean and Baltic seas were there were many narrow passages that could be mined. Also, mine laying by surface ships in WWII was quickly overtaken by the much quicker and safer use of aircraft and submarines to lay mines. Even so, mine fields were certainly laid in the Pacific for defensive purposes to protect harbors and sea lanes. On top of that, both the Axis and Allies already have a mine sweeper in the game in the Pacific (HMNZS Kiwi and the Thai HTMS Tachin) so we might as well give them some mines to sweep!
Japan and the US built large ocean going mine layers just before the war started. The USN only built one - USS Terror - before deciding mine laying could be more efficiently done with aircraft, submarines and the typical shallow-draft small mine layers. The Japanese built a series of minelayers of varying sizes in the 20's and 30's. Of these, they built two large "cruiser-minelayers" in the late 30's - Okinoshima and Tsugaru. Each was unique although Tsugaru was based on Okinshima, but a little smaller. Given the much greater distances in the Pacific theater it seemed like a unique opportunity to create "ocean going" mine layers for each antagonist. We discussed a lot of possible SA's to represent these large ships with their large loads of mines and ended up with the cards you see here. In truth, neither ship did a lot of minelaying. Tsugaru was quickly tasked with the supply transport and convoy escort duties that were her "secondary" design specification. USS Terror was mainly used to supply mines to smaller mine craft and act as mine layer flotilla flagship as the USN advanced across the Pacific.
Both of these ships will have a class limit of one.
We hope you find some creative ways to put them to use!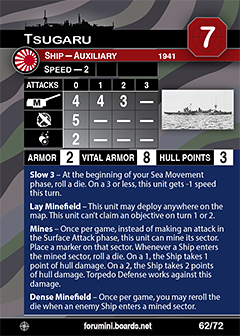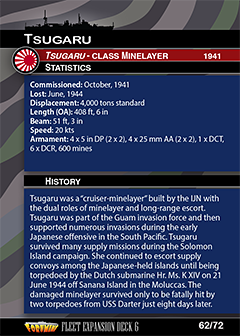 Note: The "Mines" Special Ability actually intends that the player that laid the mines rolls the die when an opponent's ship enters a mined sector. Not the player that controls the ship. I didn't realize that myself for a long time. I bring this up because it is important for the "Dense Minefield" Special Ability to make sense. Probably most of you knew that, but our club didn't.