Post by weedsrock2 on Dec 31, 2020 5:33:58 GMT
Deck "F" continues to proceed along at a snails pace. But progress is being made and we have a couple of new units to reveal. These cruisers nicely illustrate the increasing difficulty in finding useful "niches" for additional units as we create more cards. Our Allied cruiser is HMS Effingham and the Axis cruiser is the Japanese heavy cruiser Chokai.
HMS Effingham was a Hawkins Class heavy cruiser that was significantly rebuilt during the inter-war years. This class of cruisers was split into several unique rebuilds. One foundered in the early 20s, one was converted to an aircraft carrier (Vindictive), the others became training cruisers and then were restored, and Effingham was essentially converted to a light cruiser by having her 7.5 inch guns replaced with 6 in guns. As such, Effingham ended up unique from her sisters. So what do we do with a mediocre light cruiser originally intended to chase down high seas raiders in WWI? How about making it useful against raiders in our game? The card teams have increased the number of German commerce raiders with the "Disguise" invisibility cloak special ability. (A questionable move IMO.) One of the few effective special abilities against
Disguise
is
Code Intercepts
. Since raiders are not especially powerful ships, a cruiser provides a decent counter to that SA. Add
Cruiser Leader
to help with initiative (another important counter to
Raider
) and we think we have a decent raider hunter. Niche found.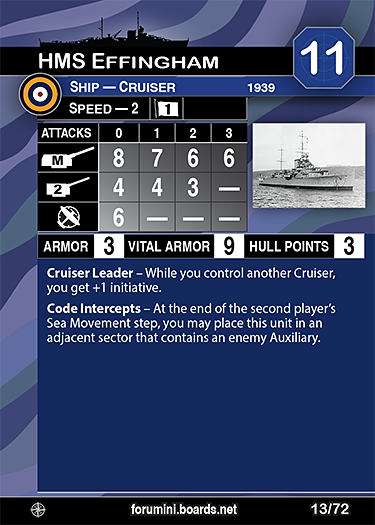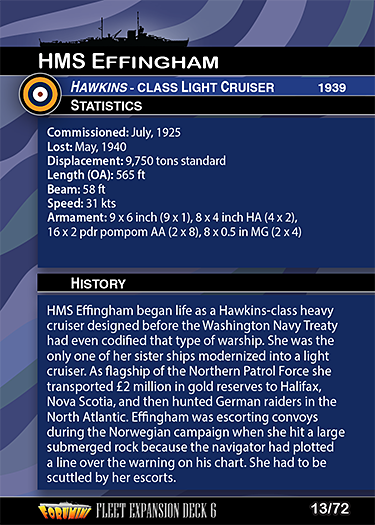 The Takao class is a special kind of hell for WaS developers among the Japanese heavy cruisers. The first challenge with Japanese heavy cruisers is the Super X/Ultra/Mega cruiser Haguro. Haguro is over-statted and under-costed so much so that it makes creating other Japanese heavy cruiser cards almost hopeless. For most IJN players, the first four heavy cruisers you put in your fleet are Haguro, Haguro, Haguro, and Haguro. The cost/benefit ratio is almost without parallel. So how do we stat and cost other IJN heavy cruisers around it? The choices are power creep to make an even more ridiculous cruiser, back off and make a bookmark, or try to find a unique game niche that is somewhat independent of cost. We generally try for the third option, but the cards almost inevitably fall at least a little toward one of the other two. Usually a bookmark. Now add the fact that Rich Baker totally missed the mark when he made Atago. The Takao class consisted of four ships. Before the war two of them (Takao and Atago) were extensively rebuilt, and the other two (Maya and Chokai) only had minor upgrades until Maya was refit again late in the war. Takao and Atago ended up more powerful than the other two. Without going into details, Rich gave Atago the stats that should have gone to Maya or Chokai, the two weaker ships of the four. So when we did Maya (because of a late refit that tried to make her AA more effective) we were stuck with a sister that actually was in the weaker pair. AA was slightly improved, the mains were reduced and we mistakenly still gave her the better torpedo stats that she should not have been given. (I hate this class). So this time Chokai was nominated. Yet another of the "weaker" sisters! Gah! At one point we actually fully spec'd out Takao as an alternative. This would have been the "full power" Takao class cruiser. The problem was it bumped up right over Haguro. There was no way to differentiate from Haguro without introducing power creep or costing it out of play compared to Haguro. So back to Chokai! It turned out that we could give the "weaker" of the sisters the correct stats and nudge it just under Haguro by a point with nearly the same cost/benefit ratio. So that's what we did. A decent Japanese heavy cruiser for a point less when you just don't have that point to spare for your build. Torpedo Swarm compensates a bit for the lower torpedo attack line, and Cruiser Leader helps you with initiative. And Atago keeps its value with Flag 2. Not a bad spot to occupy. Niche found. Did I mention I hate this class?