Post by grgbobe on Oct 14, 2020 6:20:03 GMT
In my other posts, I show various models I've purchased to proxy for the AAM models. I just can't take paying $29 or more on eBay for some of the more desirable units. I thought I might jot some notes here about my journey in case anyone else is thinking about this route.
First up is 3D printing. Shapeways was exorbitant, so I looked elsewhere. My second stop was eBay and I bought some units from a vendor called
mrbama
These models are OK, but I won't be buying any more from him. There is just too much...clean up to do and it's very difficult with his material used in his 3D printer. Here's an example in the picture below. The Hetzer on the left is his and it was super difficult to try and clean up the wheels and tracks. I would rate these no higher than a "C" if we were in school. It's hard to beat $5-$6 bucks, but you can. See below.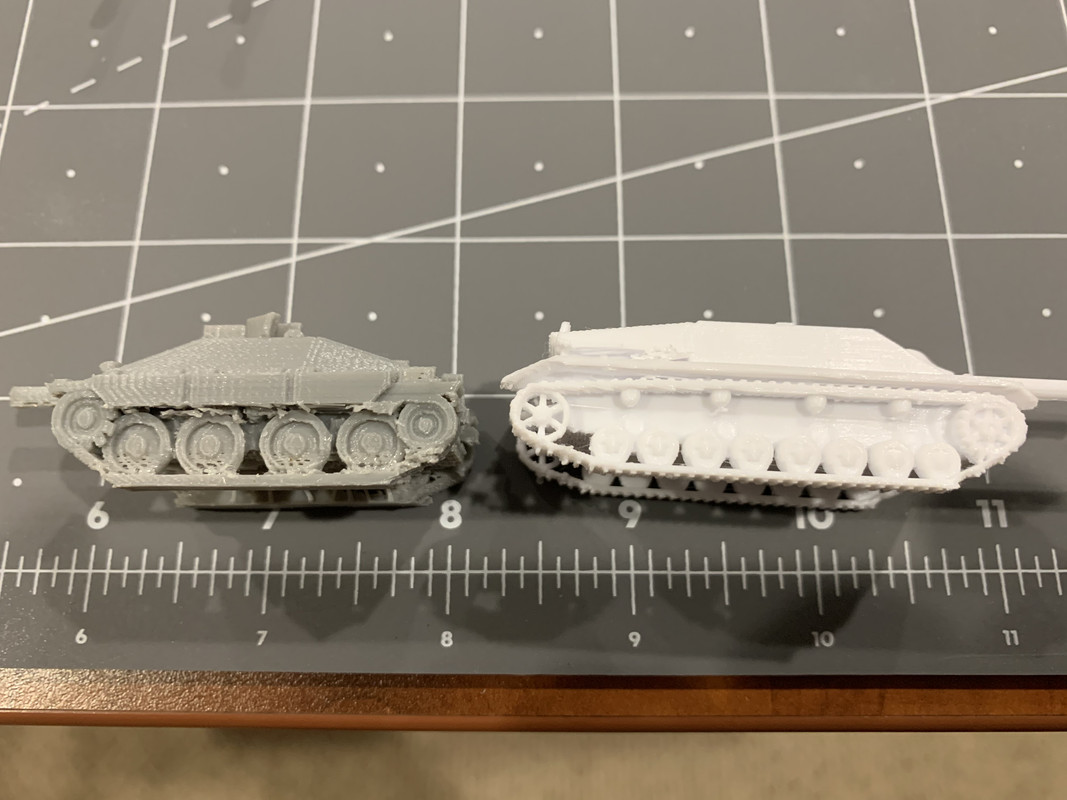 The Jagdpanzer IV on the right is from Etsy, more specifically from
TheMythicForge
Quick delivery and $5 for a 1/100 model...it's even harder to beat. However, his material is hard to work with, as well. Further, I felt like the models I received weren't of the same quality as those shown in his sample pictures. In the pic above, you can see how jagged the bottom of the hull is in the back. He also only has German and Russian units, but it's an extensive list. I give him a "B" and possibly higher if my next batch is of the same quality as those in his sample pictures.
The final contender for 3D printing is also on Etsy. Ethan runs
Plastic Anvil Workshop
He sells US, British, Russian and German units. He uses a resin material instead of PLA (which is what the prior two use). It's softer, but resilient, not really like the FUD material at Shapeways, at all. It's fairly easy to trim and holds detail better than the vendors above. The wheels do fill up with a bit of support material, but it's not terribly difficult to clean up. His base price is $6.50 for "Raw" which is cleaned of the resin and most of the support materials. You can also pay him to Prime and/or Paint it for you. All fairly reasonable. Here's the pricing for a Panzer IV G: Raw: $6.50, Primed: $7.50, Base coated: $9, Fully painted $10.50 - $12.75.
I'll insert a picture here once Postimage quits freaking out.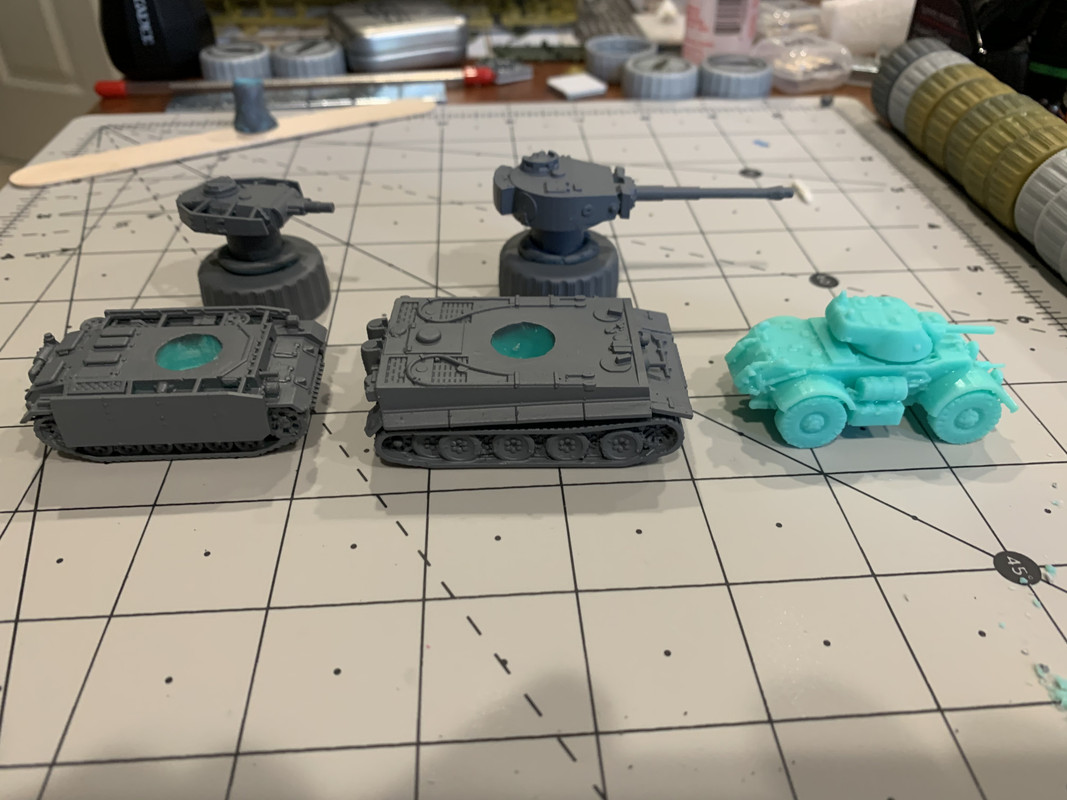 The other proxy options are hard, injection-molded plastic. Zvezda, Plastic Soldier Company and Flames of War are the main contenders here (I'm not considering metal or resin makers as I don't want to work with those materials). All of these produce very nice models once completed. All better than the quality of the WOTC or 3D units. I usually add weight to these; either 1/2 oz steel wheel rim weight or some steel ball bearings. You can find examples of all 3 of these companies in my Soviet tank thread.
Of these, I give Zvezda an "A". Nice models, easy to assemble (everything snaps together...no glue necessary...although I do use it) and, once complete, hard to tell the difference between them and the other injection molded models. For around $5, it can't be beat. However, their range is limited, so it could be hard to get the exact unit you want. Further, they have less detail (usually) than the other plastic vendors. For the Soviets, the T26 and the KV-1 are Zvezda.
Plastic Soldier Company gets a "B+". Nice quality, but with the multi-part wheels/tracks combo, they can be a pain to put together. Generally, you have to buy these in packs of 5, so if you don't need 5 Stugs, you're kind of SOL. They're a British company, so if you're across the pond, you can easily order singles, but most US resellers don't carry the singles (at least that I've been able to find). Two of my T-34s in my Soviet thread are PSC models (I have 3 left to build...).
Finally, there are the Flames of War miniatures. Frankly, the only knock on these guys is the price. Generally, the models have really good detail, and, if you buy a platoon (generally, 4 or 5 models), they come with decals. Most of the smaller sets (like the Tigers will come in a box of 2), won't come with decals. Also, the starter set "Hit the Beach" is a stupid good deal. You get 8 Shermans, 3, Pz IV Gs, 2 german AT guns and infantry for both sides for $50. But, most of their sets are more expensive than the Zvezda or PSC equivalents. Great selection, great details, but, generally, higher price. Not all of their models have been ported over to plastic. If the model title doesn't say "Plastic", it's probably metal and resin. I also like how they have built their tank hulls/turrets to fit 1mmx5mm magnets. Works great. They also provide extra parts...for example the T-34 came with the 76mm and the 85mm guns & turrets so you can swap. Same for the SU-85 and the SU-100. The SUs, the IS-2s and one of the T-34s are from my Soviets painting thread are Flames of War miniatures (actually, from their TANKS line, but the same models). I give them an "A-".
Hope someone finds this thread useful!
Grg