Post by Theaetetus on Jul 20, 2020 16:27:19 GMT
There are not a great many installations in the game, so I though I'd try my hand at a few. These may safely be called first drafts, and any feedback y'all give is welcome.
I have also opted to introduce with these cards a new and more sophisticated way of dealing with invasions per the "Installation" special ability. I have called the ability "Garrison (Number)." Instead of rolling 2d6 and adding the combined landing scores, landing scores are added together and treated as a gunnery attack. Garrison plays the role of vital armour against this attack.
So if a T1 Landing Ship (Landing 5) and a Daihatsu Landing Craft (Beach Landing 3) attacked an installation with Garrison 4, at the end of the turn, the Japanese player would roll 8 dice. If he got 4 or more successes, he would destroy the installation.
This fits the game a lot better than 2d6 by allowing for a little more calculation.
---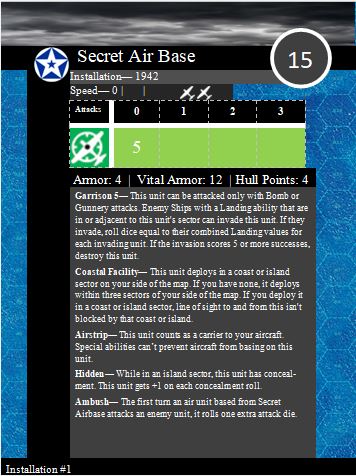 This card is inspired by Fort Glenn-Otter Point air base in Umnak. During the Battle of Midway, army P-40s based at Otter Point attacked planes from the carrier Ryujo, which were returning from a raid on Dutch Harbor. Ambush is meant to give the "Surprise" SA to units basing at the airbase, only instead of strictly applying to the first turn the bonus would apply to the first time aircraft attacked. Cap 2 is meant to provide a bit of an upgrade over the current Forward Air Base, and to reflect the historically higher capacity of Otter Point, though this is meant to neutral.
---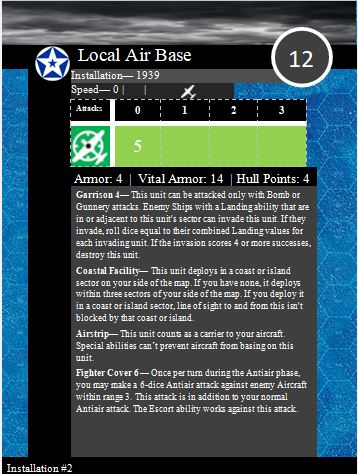 This is a stronger, less vulnerable version of Forward Airbase, with additional Fighter Cover 6, to make it more useful and robust. I am unsure about the pricing here; it might be a bit low.
---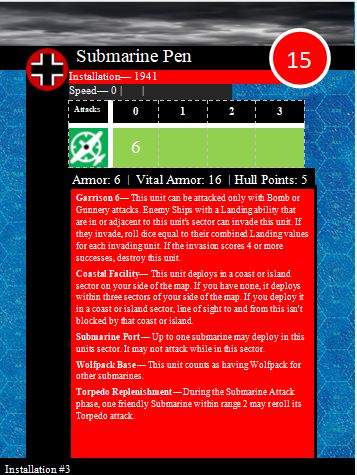 This installation is the one about which I am least sure of when pricing. It is very sturdy, and should provide a nice complement to a German U-boat build, since Wolfpack Base makes the wolfpacks more effective against a strong ASW build. Submarine port allows one give a submarine an AA defense, and Torpedo Replenishment also complements the "meta" well, though I think a better ability with a similar effect should be made; I don't like the range limitation of torpedo replenishment.
These are it for now, though I plan on trying to make a few more, and maybe trying some land units even, though my main goal is to expand the number of types of options available with installations, that installations might be a little more common in game play.
I give credit to brigman for his example in the making of the template for these cards, and to everyone who developed Forward Naval Base and Forward Air Base for providing model on which I could venture to make these cards, especially for the armour blocks.